We believe food should be local
Las Vegas Deserves It
SUSTAINABLE - FRESH - LOCAL
We are Desert Moon Farms- a hyper-local, minority and woman-owned business. As an ambitious dynamic duo we've combined our interests and skills to build an automated and sustainable gourmet mushroom farm on the Las Vegas Strip.
Meet EvaSara!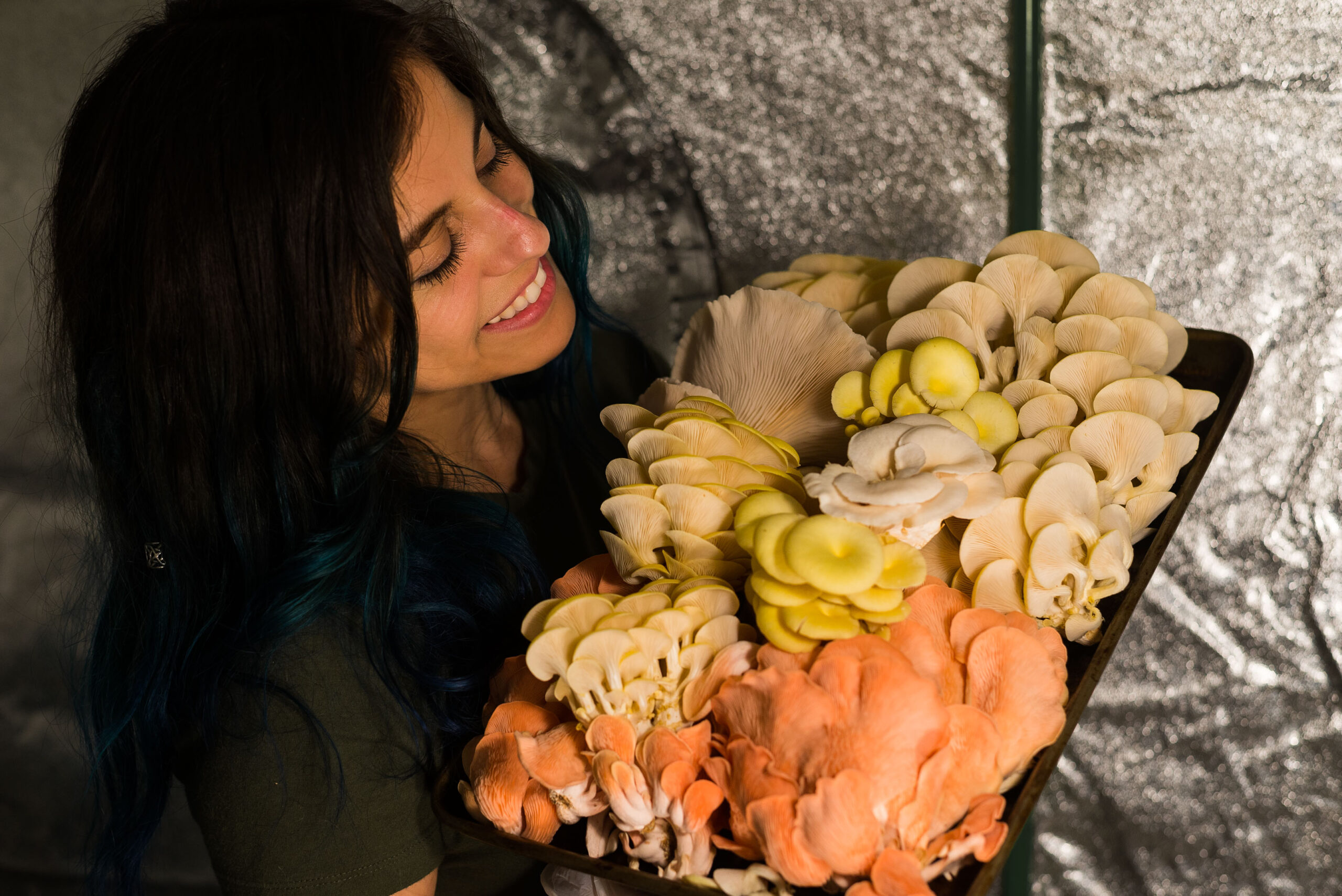 A quirky and curious true Las Vegan, EvaSara takes pride in her roots in the city. She spent the majority of her childhood as a "Jane of all trades", wanting to learn anything and everything, picking up skills wherever possible. She had fun at Le Cordon Bleu after high school then went on to graduate from UNLV with a degree in Sociology in 2015. Since then, she's grown increasingly passionate about a multitude of subjects but most notably-- sustainability, food inequality, veganism, nutrition and ultimately the seemingly endless amazing ways mushrooms can benefit the world. Curious about growing them, she and Enrique and turned a room in her home into a little gourmet mushroom farm for personal use. They were immediately hooked and worked towards their vision to offer fresh, farm-to-table mushrooms to the Las Vegas community. Her personal goal is to give 5% of our proceeds to the underserved and underprivileged communities in Las Vegas and eventually team up with environmental scientists researching mushrooms and mushroom mycelium.
Meet Enrique!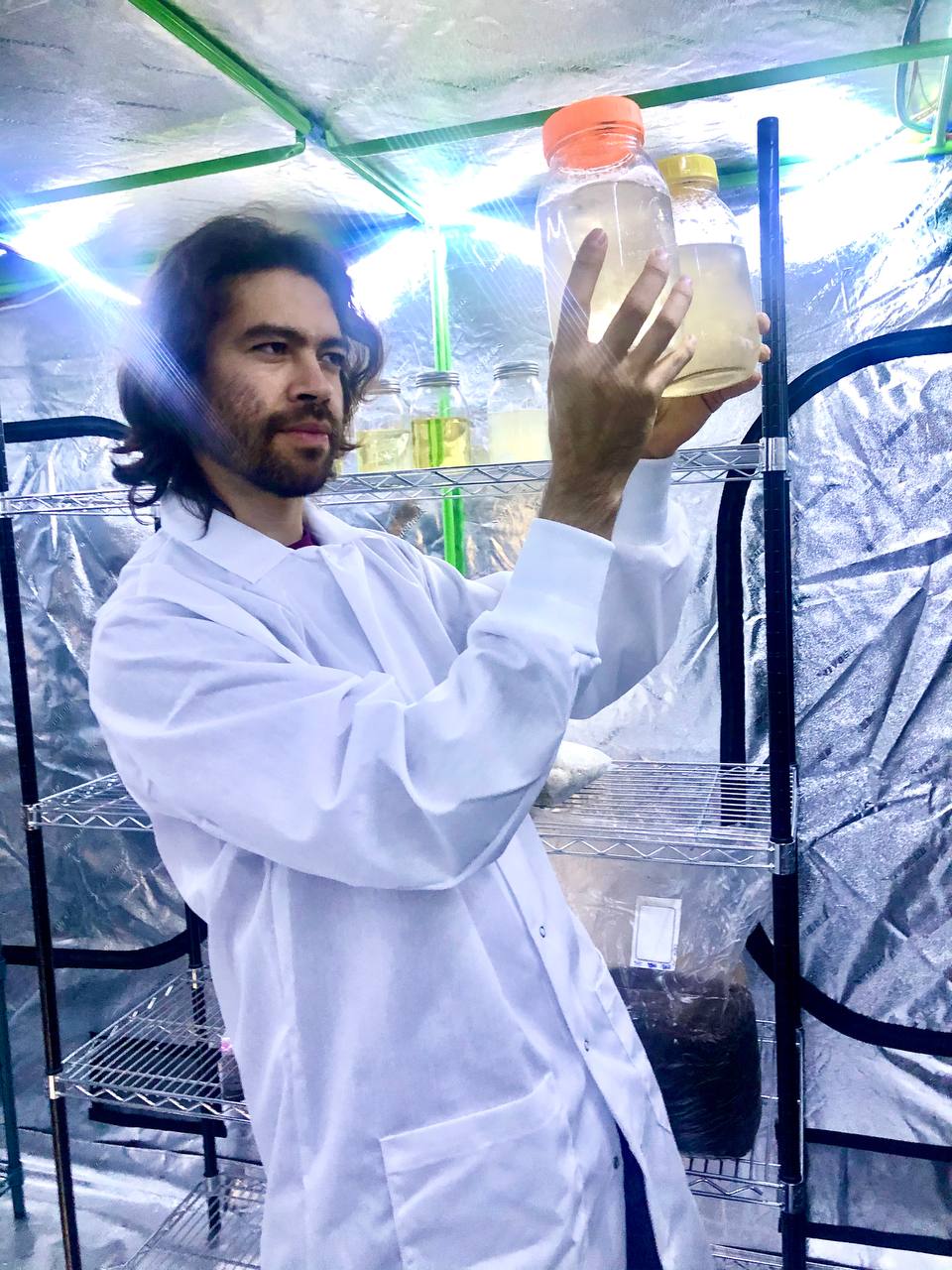 Also born and raised in Las Vegas, Enrique spent his childhood philosophising, adventuring on his skateboard, and challenging the status quo. While earning his Mechanical Engineering degree at UNLV, he discovered his love for travel and began dabbling in photography. Soon after graduating, his career took him to Alaska for 5 years where he spent his free time hiking, taking beautiful photos, building his aeroponics system, and learning about mushroom foraging. After a family emergency brought him back to Las Vegas in 2019, he finally decided to become a business owner and bought himself an abandoned laundromat. Being the frugal DIY'er that he is, he fixed and automated it on his own! Soon after opening, he partnered with EvaSara to start their most recent adventure-- Desert Moon Farms. 
The Mushrooms!
We are excited to be in the process of becoming Organic Certified, as our goal is to provide our community with locally sourced, clean and nutrient-dense foods.
Our mushrooms start their life cycle as mycelium — it grows on 100% Organic Millet grain. The mycelium on grain is then transferred to a mix of 100% Oak Pellets, 100% Organic Soy Hulls, and reverse osmosis water—nothing else! That's where the mushrooms grow until harvested and make their way to your kitchen. With much love and care, always.
WHY CHOOSE US
SOME OF OUR FEATURE

FREE DELIVERY
We offer free delivery to our restaurant and grocery customers.

& We are always here to support an emergency!

UNIQUE OFFERINGS
We grow rare varieties you won't find elsewhere!

ULTIMATE QUALITY
Others say it, but we mean it!
Personally cultivated and harvested